T Shirt Manufacturer share with you about the development and current situation of T-shirts, please feel free to contact us if necessary
Waves of young people have grown up, but their enthusiasm for T-shirts has not faded. The strangeness of T-shirt printing is no less than in the past. In terms of the material of T-shirts, all kinds of microfibers, high-elastic fibers and polymer composites have replaced the original single cotton. The number of people who wear T-shirts extends to all ages and is also popular with ladies.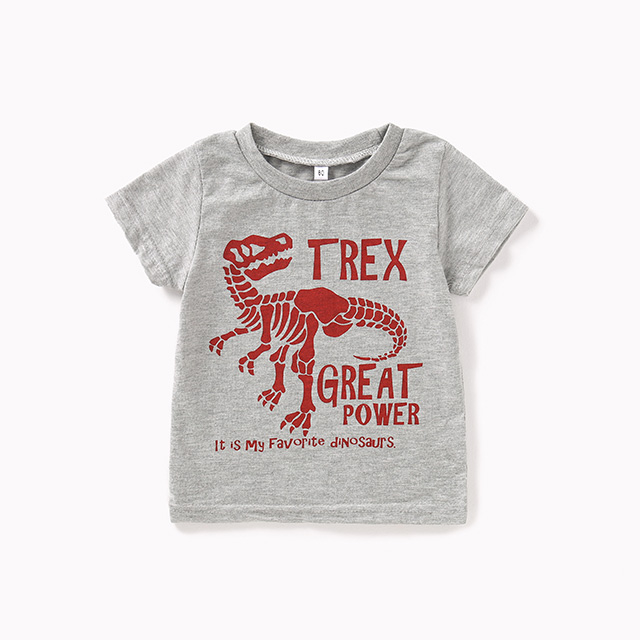 Children Cartoon T-Shirt
From the 1950s to the 1960s, people in the pursuit of comfort and casual obscured the functionality and categories of clothing, resulting in casual clothing. What is casual clothing? Refers to the general term for clothing worn in spare time and leisure time after get off work, including country clothing, seaside clothing, tourist clothing, fitness sportswear, etc. It is a relaxed, concise, and unrestrained clothing. T-shirts are included, and we also call them "cultural shirts" in our lives.
T-shirts appear in all corners of the world as casual wear. Its anti-traditional cultural and anti-system symbolism has faded. T-Shirts, jeans and jackets are naturally good partners, but they are not inappropriate to wear in casual suits. There are countless types of clothes that T-shirts can match, and what they can't match. T-shirts are popular. Permeated with the breath of civilians. In 1998, most of the actors who fought against the flood and disaster relief used T-shirts as costumes to show that they shared the hardship with the people in the disaster area. T-shirts are the most fashionable again.
It is worth mentioning that no matter how the printed and new-fiber T-shirts promote fashion, white cotton T-shirts are still very popular, especially during a certain period in the 1980s. It is said that the white T-shirt is reminiscent of the 1950s, and it makes the youthful time linger forever.
The structural design of T-shirts is simple, and the style changes are usually in the neckline, hem, cuffs, color, pattern, fabric and shape. T-shirts can be divided into three forms: sleeve type, vest type and open belly type. T-shirts are the most active category of summer clothing. From home clothes to popular clothes, T-shirts can be matched freely. As long as you choose the same style of bottoms, you can wear popular styles and different moods.
The early T-shirts were generous in shape, paired with short skirts, shorts or jeans, and the whole combination showed a healthy, upward and energetic feeling. In recent years, small T-shirts that fit well have become popular. They have replaced large T-shirts. They accompany short skirts, shorts, and leggings to sing the main theme of summer clothing. This combination can fully demonstrate the beautiful body shape of women, especially the exposed T-shirt, which can show the vitality of youth and health, which is a popular style in summer.
The company also provides Children Cartoon T-Shirt, please feel free to contact us if necessary