Over the years, everyone's taste in children's clothing has definitely improved, and they all have their own opinions on the selection of children's clothing, but of course there are also doubts. Children's Clothing Manufacturers share with you tips on selecting children's clothing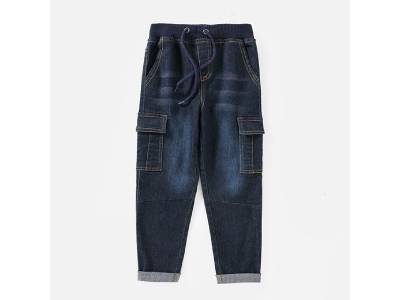 Children Jeans
How to shop for children's clothing
1. Choose an overall color scheme. Because children look different and have different skin tones, try to choose clothes in the usual colors so that things go well together and it's easy to add some other colors when they come up.
2. Choose fabrics that will stand up to years of washing and wear. This means almost always choosing non-stretch cotton, even if it means a quick iron, twill, soft denim and chinos, and sweater fabrics.
3. Pick classic shapes and patterns with interesting details. Try not to pick items that are too trendy so they don't go out of style too quickly, and look especially for items that have interesting little details that make them stand out.
4. Be aware of what they like to wear. Whether your child likes to wear children casual pants or Children Jeans, this is something you need to know to avoid waste
5. Be realistic about the occasion and weather you're buying for. The star's little plaid shirt is ideal for the entire fall and winter season because it's not too heavy. If most of your holiday celebrations are very casual, pick something festive that isn't too fancy - it might be tempting to go with one of those super flowy Christmas dresses
What guidelines do you use when picking out clothes for your kids? If you're in the market for some new clothes for your little ones, what do you focus on more? Feel free to talk to us anytime. We also have Beach Shortsavailable, please feel free to contact us if you need them!