Choosing Children Clothes for your child can be a daunting task for any parent. On the one hand, you want all the pretty mini versions of your own clothes that look so cute on your baby, and on the other hand, you want your baby to feel comfortable in his or her own clothes. And don't forget that clothes should be easy to get on and off, considering that you may need to change clothes several times during the day. So, here are some basic points to remember when shopping.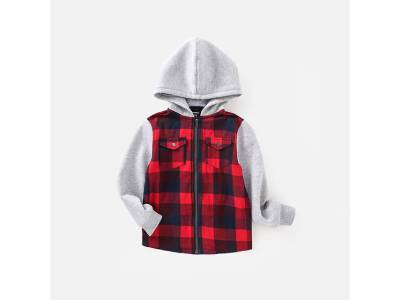 Children Plaid Jacket
Choose high-quality fabrics - You need to choose soft and natural materials. Cotton is the best choice for newborns, and remains the best choice for toddlers and older children. Wool is also a good material to protect against cold weather.
Choose clothes that are machine washable - You need to be practical. Babies are messy, so you'll want to choose clothes that are machine washable.
Buy bigger clothes - Babies grow quickly, so buying bigger clothes is recommended. Remember that cotton also shrinks a bit after washing, so if you buy something that fits perfectly, you may not be able to wear it after the second wash.
Avoid fancy clothes - It's important to be able to dress and undress your baby quickly, so choose clothes that facilitate that process but don't hinder it. Too many belts, buttons, etc. are not recommended because they can also irritate the baby's skin or pose a choking hazard. In addition, they usually impede the baby's movement and are not very comfortable.
There are also some tips to follow when dressing your baby. Make sure to wash new clothes or hand them down before putting them on your baby. Choose special laundry materials that are baby-friendly, as other laundry materials may irritate your baby's skin.
Basic rules for dressing your child
After the first year, you'll have an energetic child who is learning how to walk and run, and is usually more active. The clothes you choose should match this activity. Once your child starts walking around, you will need more durable clothing.
You can choose bright colors because they are more likely to get dirty than pastels. Also, brighter colors are unisex than Children Plaid Jacket, so you can choose as needed
When choosing clothes, you need to consider again that comfort is the primary factor. t-shirts and overalls with adjustable straps are two essential pieces of clothing for this age group. Once your child starts walking, you will also need to add appropriate shoes to promote movement. You should also add a raincoat to your little one's closet.
Once again, your first rule is to choose high-quality clothing made from soft, natural fabrics. Avoiding designs like appliques and glitter that may irritate the skin is still a good choice. The main tip to follow is to try to provide your child with a functional closet by choosing comfortable clothes that are easy for him or her to move in.
Don't let your child "grow up" too fast
One of the rules to follow when choosing clothes for your child, no matter what their age, is not to let them grow too fast. In other words, no matter how cute they look, don't wear clothes or accessories that are appropriate for their age.
Our kids use smartphones and tablets, so they are exposed to fashion and they are probably more aware of current trends than we are. Nonetheless, we can still dress our kids in trendy clothes, but in an age-appropriate way. The main rules to follow are.
Always choose comfort over style
When we talk about children's clothing, comfort always comes first. The younger the child is, the more important this factor becomes. With the passage of time, we can combine it with style. However, never compromise on the main aspects, such as high quality materials and design, which do no harm to the child. Even if we choose clothes for special occasions, it is important that the child is able to move freely, run, sit, bend and spin without any restrictions.
Avoid wearing clothes
It is better to dress up than dress down whenever and wherever you can. Have some comfortable clothes that look great. Always put your child's preferences first and don't force them to wear fancy clothes unless they want to.
Dress for the weather
Choose the right clothes based on the weather outside. Often, kids can't make appropriate choices, and while you can give them some freedom, don't allow them to wear sleeveless clothes when it's cold, no matter how stylish they look.

Let the kids choose
Children love control, and you can let them enter their choice of clothes. If your toddler is between 2 and 4 years old, choose from two options. Therefore, you can choose clothes that are appropriate for the weather or occasion, but can be selected. You can do the same thing when shopping - offer some pre-selected items and then let them choose what they like.

As your child gets older, you should let them put together their own combinations. Often, you won't agree to choose colors or types of clothing, but keep in mind that they have their own tastes. You can simply share your opinion that it looks funny or awkward and ask them why they want to match them. This can help your child form their preferences and encourage them to express what they want.
Shopping for children's clothing can be fun, but you need to remember that it is also a very responsible activity. Always put safety and comfort first, and try to combine them with styles you like. Regardless of age, a few key rules apply to children's clothing - quality, natural, breathable materials, good design, freedom of movement, and ease of cleaning. Follow these guidelines and you'll make the right choice when buying clothes for your child.
The company also wholesales fine children's clothing, so please feel free to contact the Children Clothing Manufacturers if you need it!