Modern society revolves around concepts such as beauty and originality, ideals that have been embraced and implemented by fashion designers around the world. It goes without saying that fashion has always been a powerful form of expression, as the way we dress reflects our cultural origins, our mindset, our personality, and even our feelings. Furthermore, fashion has the great advantage of combining practicality and aesthetics and can be considered "a practical art form". Fashion has suffered many drastic changes over time due to many different cultural and social factors and constant adaptation to the needs and demands of an evolving society. In its constant evolution, it has given rise to many different styles and trends that reveal the characteristics of each unique era.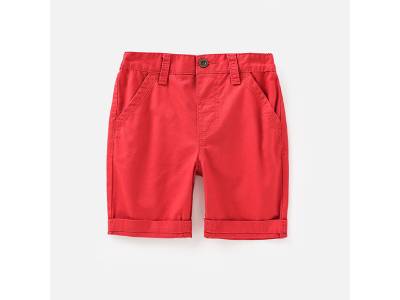 Children Candy Color Woven Shorts
Although it has created many trends that have evolved with the ideals and needs of society, fashion has only recently begun to give equal attention to all categories of age. Although they were generally ignored by Clothing Manufacturers in the past, today children constitute an important customer segment of the fashion industry, enjoying a wide and varied range of clothing appropriate to their age. The children's apparel industry has only recently begun to achieve good exposure and visibility, gaining significant momentum over the past few years.

As the popularity of the children's clothing industry has grown, more and more fashion designers have decided to focus their efforts specifically on designing clothing for toddlers and babies. Soon, the products became more and more diverse and children's clothing gained a lot in terms of aspect and originality. Supermarkets and clothing stores began to fill up with clever and colorful children's clothing, and many stores even specialized in selling children's clothing. Compared to yesterday's children's clothing, today's children's clothing is ingenious and appealing, stimulating their imagination and building their aesthetic and beauty sense. From Children Candy Color Woven Shorts for little boys and printed suspenders for little girls, and even superhero costumes, today's children's clothing was created to fully satisfy the needs and desires of the very young.

Many children today are clearly enjoying the "attention" given to them by the fashion industry and are spending more and more time looking for the most interesting and imaginative costume items they can find. Many children are so captivated by so many clothing models, designs and colors that they can barely decide on one particular item Once they step into a children's clothing store, children are immersed in a colorful and magnificent world similar to the one created by toy stores. Interestingly, many of today's children enjoy visiting children's clothing stores and toy stores equally - a fact that reveals the younger generation's interest in clothing and their propensity for originality, aesthetics and beauty.

From an overall price perspective, Children's Clothing has recently become increasingly affordable. Whereas a few years ago parents had to spend a small fortune to provide their children with quality clothing, now they can get the right clothes for much less money. A few of the main factors that have contributed to the decrease in children's clothing prices are the large number of clothing imports, the emergence of many discount stores in the market and the even distribution of goods between supermarkets and clothing stores.